Friends play a different role in each of our lives; we all have different types of friends in our lives.
You can have fun with friends, you can get advice from them, you can rely on them for support, you can count on them to push you to achieve your goals, and more!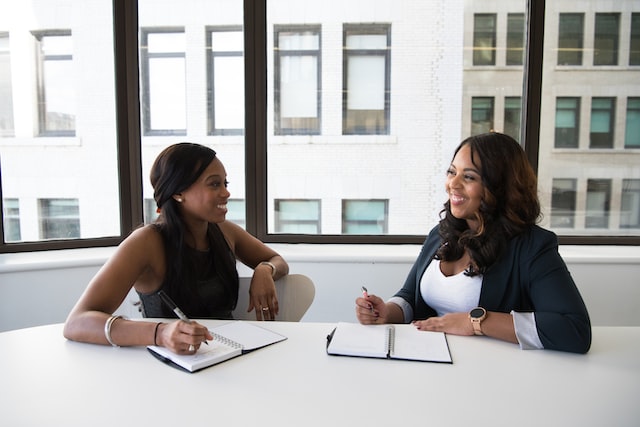 Some friends can accomplish more than one of the last functions. The same can be said of friends at work as well.
You might get together with your colleagues occasionally for drinks, but you may also become good friends and even keep in touch with some of them on a regular basis about your most significant personal accomplishments and struggles.
Throughout this blog, we will be exploring the many benefits of having friends at work, and how friendship can positively impact your work environment, your team, and your organization as a whole.
Boost Your Creativity and Productivity
A strong work-place friendship can transform the everyday casual banter and chatter of the workplace into innovative discussions about how to improve the team and the organization in the best possible way to thrive and grow.
Interactions with friends provide people with the opportunity to be creative, experiment, and collaborate at the same time.
Carve Paths and Open Doors
As a professional, your colleagues can be a valuable resource, and they do not just assist you with assignments when you need them to be done.
In addition to providing professional development opportunities and networking opportunities, coworkers can also act as introductions or help promote your work in the workplace, via social media, or through word of mouth as a resource for professional development or networking events. As a result, you can acquire the skills and exposure you need to move forward in your career.
Keep You Accountable
It is important to know that a friend at work will be able to help you achieve any type of goal you have set for yourself or your career. Just telling someone your goals will help you to stay accountable, thus ensuring your success.
When you have a friend who gives you that gentle nudge when the opportunity arises for you to accomplish your goal, it can make all the difference between dreams and accomplishments.
Support With Brainstorming
If you feel stressed at work, the ability to vent your emotions to someone can help boost your mood and make you feel heard. Having someone to empathize with you can make you feel heard and lift your mood.
According to Psychology Today, bottled up negative emotions can be detrimental to your mental, emotional, and physical health if you allow them to remain there.
You may be able to regain your ability to think logically by talking through your feelings with a friend, allowing you to devise a course of action to overcome the obstacles you are facing.
Talking About Stress in the Workplace
It is common to find that family members have no understanding of the everyday stress in the workplace.
Despite their best efforts to be supportive, there is nothing like a friend at work whom you can count on to understand how hard it can be to work.
If you feel that you are at the crossroads of a personal and a professional life and are seeking guidance and suggestions from friends at work, these words of advice can be life's saviours.
Motivation!
Keeping yourself set in your cubicle and not getting out to socialize with others can have a detrimental effect on your productivity and health.
Friends at work can provide a dose of fun that is essential to refresh your mind and body before you head out to meet that next work deadline.
As A Team Player, You Will Be More Effective
It is important for a team to have good relationships amongst each other in order to achieve more. The more friendly you are with your colleagues, the more likely you will be to see your workday as another routine day.
Instead, you will want to help accomplish team goals. In addition, it is vital that a brand is made desirable by having a happier workforce.
You Will Stay Prepared
The conversations that you have with good friends at work can often reveal what the best solution to many nagging problems at work is. So, it is important to have similar conversations with trusted friends at work.
Having such conversations with friends and getting their input on the matter will give you the confidence you need to face any big moments. Whether it's meeting new clients or meeting your boss, you will be prepared!
It Will Make Your Job More Satisfying
A study shows that people who have friends at work experience a greater sense of belonging to their workplace and are more altruistic. A study finds that people with friends at work are more likely to align with the organization's goals 27% better than people without friends.
As they learn new skills and brainstorm, they achieve better productivity at the workplace, which contributes to a higher level of job satisfaction as they enjoy the fruit of their productivity.